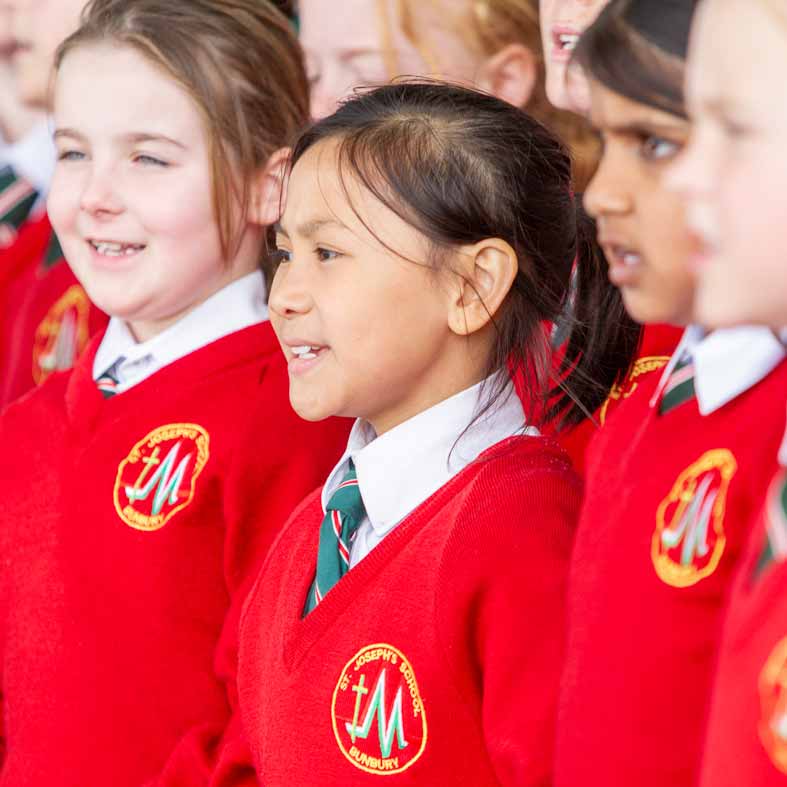 Two songs have been selected for this year's Massed Choir, as follows:
ANCIENT CITY from Turn on the Open Sea by Paul Jarman. (4'47)
SSA & Piano
Very contrasting in style.  Originally inspired by a haunting melody written for viola by Andrew De Teligia, this evocative piece has illuminated the imagination of choristers and audiences worldwide.  The Australian composer Paul Jarman wrote the lyrics while camping in the Blue Mountains, during a fierce electrical storm.  Howling winds and the lustre of a full moon flittering and the Australian bush were perfect aids in fostering an enigmatic piece.
MORNING TIDE Arr by Stephen Leek from his Island Songs. (1'53)
SSAA acapella choir
A rousing, beautiful Torres Strait Island song in English, capturing the spirited love of Country.  A fisherman calling to his fellow fishermen the morning tide is calling at the dawn of the day.  This is a very, spirited & uplifting song.  Stephen has captured the true spirit of this great land.  A repeated, layered harmonic structure.
Resources will be available soon.
EXPRESS YOUR INTEREST TO PARTICIPATE IN THIS YEAR'S MASSED CHOIR
This year's cluster combines the Central North and Northern schools.  Please EXPRESS YOUR INTEREST HERE to participate.
| | |
| --- | --- |
| Aranmore Catholic College | LEEDERVILLE |
| Aranmore Catholic Primary School | LEEDERVILLE |
| Chisholm Catholic College | BEDFORD |
| Francis Jordan Catholic School | CURRAMBINE |
| Infant Jesus School | MORLEY |
| Irene McCormack Catholic College | BUTLER |
| Liwara Catholic Primary School | GREENWOOD |
| Majella Catholic Primary School | BALGA |
| Mary MacKillop Catholic Community Primary School | BALLAJURA |
| Mater Dei College | EDGEWATER |
| Mercy College | KOONDOOLA |
| Our Lady of Grace School | NORTH BEACH |
| Our Lady of Lourdes School | NOLLAMARA |
| Our Lady of Mercy Primary School | GIRRAWHEEN |
| Our Lady's Assumption School | DIANELLA |
| Padbury Catholic Primary School | PADBURY |
| Prendiville Catholic College | OCEAN REEF |
| Sacred Heart College | SORRENTO |
| Sacred Heart Primary School | HIGHGATE |
| Servite College | TUART HILL |
| St Andrew's Catholic Primary School | CLARKSON |
| St Anthony's School | WANNEROO |
| St Columba's School | BAYSWATER |
| St Denis School | JOONDANNA |
| St Elizabeth's Catholic Primary School | HOCKING |
| St Francis of Assisi Catholic Primary School | BUTLER |
| St Gerard's Primary School | WESTMINSTER |
| St John Paul II Catholic Primary School | BANKSIA GROVE |
| St Kieran Catholic Primary School | TUART HILL |
| St Lawrence Primary School | BALCATTA |
| St Luke's Catholic Primary School | WOODVALE |
| St Paul's Primary School | MOUNT LAWLEY |
| St Peter's Primary School | INGLEWOOD |
| St Simon Peter Catholic Primary School | OCEAN REEF |
| Trinity College | PERTH |
| Whitford Catholic Primary School | CRAIGIE |
This year we have engaged Prue Ashurst as the Massed Choir Conductor.  Prue is an in demand choral conductor, educator, adjudicator and guest speaker and we are delighted to have Prue involved.
Prue Ashurst Biography
Prue is a graduate from the University of Western Australia with a Masters in Music Performance (Choral Conducting) and Bachelor degrees of Music Education and Performance.  Having taught at a number of Government and Independent schools, Prue's school choirs have sung in Geneva, London, Singapore and Wales.  She is now in demand as a choral conductor, educator, adjudicator and guest speaker.  She has conducted for the Perth International Arts Festival, WASO, WA Opera, the Gilbert & Sullivan Society, UWA Choral Society, WASO Chorus, PUCS and the Gondwana Choirs.
In 2006 Prue trained 120 Penrhos College girls who appeared with Hugh Jackman in The Boy from Oz.  She was Director of Music at Penrhos for seven years and in 2008 conducted the Penrhos Chorale to 4th place at the prestigious Llangollen International Music Eisteddfod in Wales.  In 2009 and 2010 she was employed as a part-time lecturer at the School of Music UWA before returning to WASO as their Education Manager for two years.  In 2011 she trained the 120-voiced Youth Choir for the Opening Ceremony of CHOGM and in 2014 conducted 600 choristers for WASO's The Big Sing.
For 14 years Prue has been a regular music presenter on ABC 720 with the late Eoin Cameron.  In 2013 the Rotary Foundation named her a Paul Harris Fellow for her lifetime work in music education.  In 2016 she co-commissioned RIFT by the acclaimed British composer Anna Clyne for the Cabrillo Festival of Contemporary Music in California and in 2018 was a guest pre-rehearsal speaker for this festival.  In 2019 Prue returned to ABC Perth radio as a regular guest with Gillian O'Shaughnessy and was Commissioning Patron of Paul Stanhope's award winning I Am Martuwarra for Gondwana Choirs World Choral Festival at the Sydney Opera House.  In 2021 Prue continued her passion for contemporary orchestral works with a WASO commission of Stratus by Olivia Davies and in 2022 with Olivia's new work, In Waves.
Regional Schools Video opportunity
As with Faith in the Future in 2021, we are again providing a video opportunity for our regional schools, to record their own version of Ancient City in their relevant, iconic Western Australian location and submit for inclusion in a compilation video to be shown on the night of the concert.
Please EXPRESS YOUR INTEREST HERE.  Video submissions will be due by Friday, 26 August.